To return to the marill.com home page, click here.
We purchased our first RV, a 22' 1989 Toyota Dolphin in 2004. We found that this vehicle's incredible versatility exceeded our wildest expectations.
After four years of use as a "home away from home", we have comfortably visited our grandaughters in Delray Beach, 160 miles away, many times. We have visited many friends and family while we toured some of the most beautful places in the Eastern US. We have evacuated the Keys in our tiny but complete "Maril Mobile" during several approaching hurricanes with it. We have used it many times as a guest cottage when friends and family visit. And it is a great way to go visit Key West or spend a day at a local state park with visiting friends and family.
We are convinced that, for us, the versatility of a relatively small Class C (with bed on top of cab) is the right way to go for us. So, after four years, we decided to upgrade to a similar RV, only one foot longer, but with 20 years of improvement in technology and layout design evolution. Our new RV has a "slide-out" which, in itself, is an amazing way to expand the volume of the living area while collapsing its size while under way. We jockingly say that our new RV is our lovable Toyota RV "on steroids".
Below, you can see both RV's side by side. Our new one is higher and does not fit under our house in Marathon like the Toyota conveniently did. But we have found a good place to park it by the house and protect it from the hot Florida sun.
Above, you can see our RV parked at Russ and Bev Powell's beautiful driveway in Odessa, Florida, just nort of Tampa, during our first night living aboard.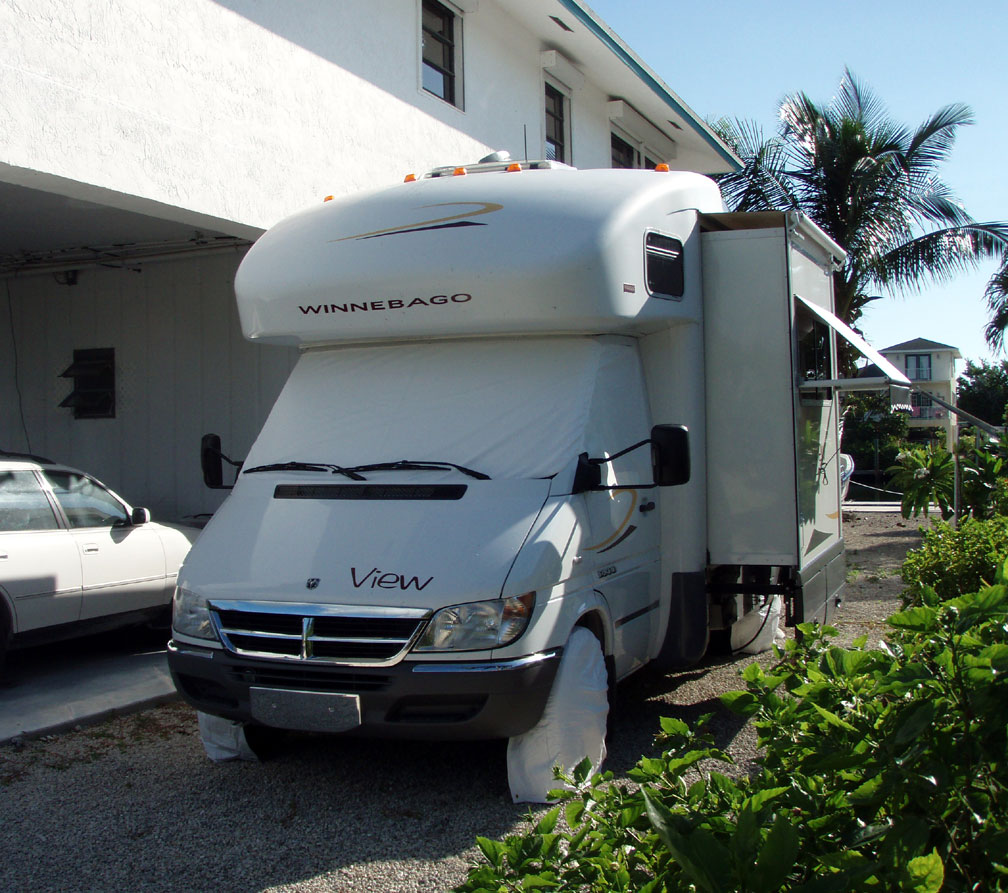 Above is the new Winnebago View parked at its new home in Marathon, in the middle Florida Keys.