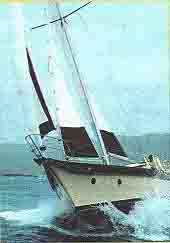 There can never been enough pictures of these fine boats around, and we plan to add as many CSY sailboat pictures as we can find that fit in our web space. Stay tuned!
DON'T FORGET TO CLICK ON EACH IMAGE TO MAKE IT LARGER! This approach limits your image downloads to those you really want to see in detail, speeding up the whole process.
Dave Covert has a very good collection of CSY images on his site as well. Make sure to check it out at: http://thecoverts.com/csy/familyalbum.htm
Below we see the CSY 44 walk-over ODYSSEY, on the hard on the island of Hawaii, circa 1997, waiting for its new owners to come and get her back to sea. This boat has been purchased, and is being re-powered and refitted to sail back to the West coast of the US.