During the fifth year of manufacturing the CSY 44 in its various versions, the CSY Yacht Corporation came out with a new concept to reduce the cost of the yachts. This new version was marketed as the CYGNET 44 line. Shortly thereafter, the CSY Yacht Corporation went out of business. This must have happened in 1981. I had been very impressed with CYGNET 44 WT at the Fort Lauderdale Boat Show, and had signed up for information. I have digitized the brochure (see below) which I received at that time. The brochure had information on all three of these newly-marketed versions of the original. The only boat that I remember seeing which resembled a CYGNET 44 is Jubilee, a walk-through, in St. Petersburg, during the 1992-1996 timeframe. This boat has since been sold and has another name. It was painted all-white and did not have the trademark CSY hull ports on its bow.
Originally, there were three types of CSY 44 pleasure boats designed and built at the CSY factory. The "walk-over" model is the most well-known. They were built from 1977 to 1980, and were primarily built to be initially chartered and then passed on to their owners. They are referred to as "walk-over" because one has to walk up to the cockpit from the main salon and then down to the separate aft cabin, hence the "walk over" the cockpit term.
The Pilothouse design was built on the same 44' hull, but has a traditional aft cockpit and a second control station inside the pilothouse. I believe all the Pilothouse models were built with a ketch sail plan.
In the "walk-through" design, also built on the same 44' hull, one can walk from the mail salon to the aft cabin by "walking through" the galley on the starboard side. Although most of the walk-thru's were cutter-rigged, there are a few that are ketch-rigged.
CYGNET 44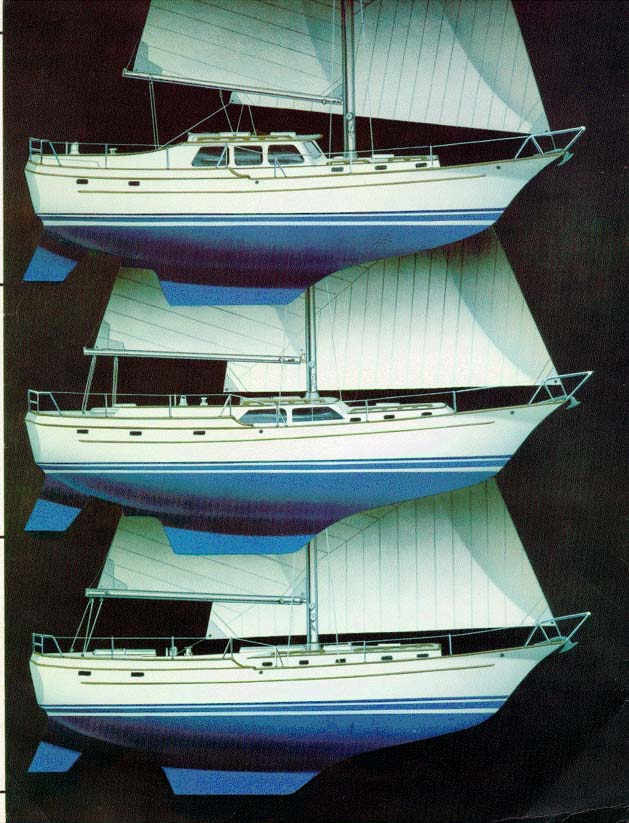 Below is the CSY CYGNET 44 brochure. You can click on each page to see it larger.