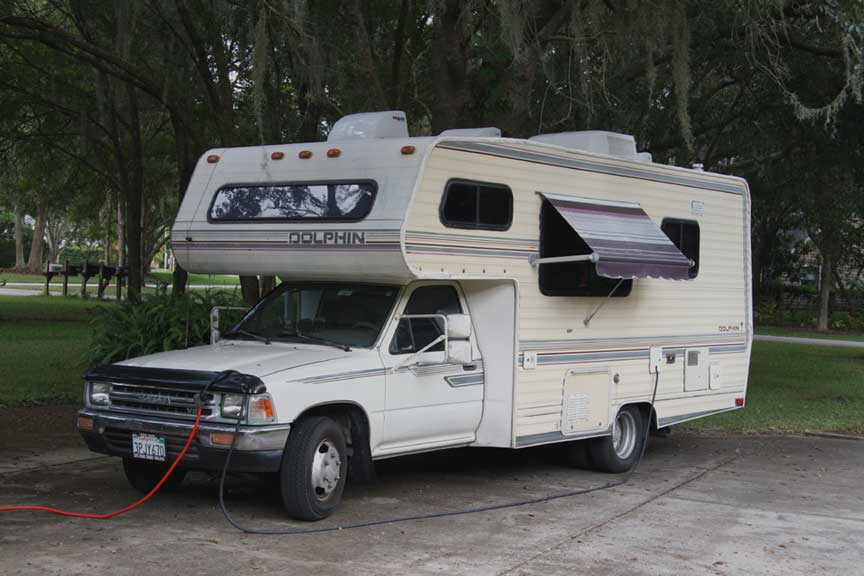 These Toyota-based Class C "Micro-Mini" RV's were built by several, well-known RV manufacturers in the late 70's, 80's and early 90's. The last year they were built was 1994.
These sought-after compact and thrifty Toyota-based RV's are a great compromise between a Class B van conversion and a full-size Class C RV. Among well-known manufacturers who built Toyota-based RV units are, among others: Winnebago (Warrior), National RV (Dolphin), Chinook (Newport) and Gardener-Pacific Mfg. (SunRader).
This Dolphin Model 900, manufactured by National RV, was one of the most popular Toyota-based RV's built. These units combine the reliability, simplicity and proven engineering of a Toyota small truck chassis with the compact, yet fully functional design of the well-known National RV brand. They were last built in 1993. Starting with 1987, these RV's first incorporated the stronger double-wheel, 6-lug rear axle, and, starting in 1989, these units were powered by Toyota's flagship efficient, reliable Toyota V6 engine, instead of the equally successful 4-cylinder in-line engine used until that point.
We purchased our Toyota in 2004 from a private party, with 93,000 miles. Since then, we have put on 20,000 trouble-free miles and have continued to maintain this RV in top-notch condition. We have all the service records to prove it.
We believe that this small size Class C RV gives us optimum flexibility. You can park this RV anywhere, and even use it as a second car for moderate use. The versatility of these units make them work well in a broad set of applications. Whether fully hooked up to power and sewer at an upscale RV park, or plugged in while parked on a family driveway for an extended period as a "home away from home" or a guest house on a friend's property, or even when totally self-sufficient dry-camping at a remote campground or RV-friendly Walmart parking lot
Our web pages are designed to provide you with as much information as possible about Toyota RV's in general, and our particular unit now for sale. We love our "Toy", as many of their proud owners refer to them, and we want to find a good home for it, someone who will appreciate it, take good care of it, and get many more years of valuable use from it.
Why are we selling our Toy? Well, after owning it for four years and appreciating the value it provides to us, my wife and I were confident enough to buy an RV embodying the same proven concept of our present RV, but on "steroids". We have just purchased a used 23' Class C Winnebago View RV. Although there are a lot of improvements (after all we are talking about 20 years worth of technology evolution in RV construction and amenities), the fundamental layout and features are very much the same. The fuel issue is not a show-stopper for us for the uses we continue to envision, and, in the current hard financial times, these small portable homes provide economical options for living and/or transition from one geography to another, or for moving from one stage in life to another.
Included in these web pages (see links above) are sections on our RV's specifications, both standard equipment and optional equipment, exterior images, interior images, more background information on our ownership and experience with this RV, our contact information, and links to some useful on-line information about these fine recreational vehicles.
We have become fond of our little home on wheels and we hope that its new owners will get as much value and utility as my wife and I have received over the last four years.